Christopher Trabue, M.D.
Program Director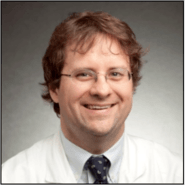 ---
Christopher Trabue, M.D.

Dr. Christopher Trabue is a native of Nashville, Tennessee and received his undergraduate degree from Belmont University. He attended medical school at East Tennessee State University, graduating in 2002. After finishing his internal medicine residency and chief residency at the University of Tennessee/Nashville, he completed a fellowship in infectious diseases at East Tennessee State University. He has served as an infectious diseases consultant at Saint Thomas Midtown Hospital since 2008. He is board certified in both infectious diseases and internal medicine, and is a member of the Infectious Diseases Society of America and fellow of the American College of Physicians. He is an associate professor of medicine with the University of Tennessee and has served as program director for the University of Tennessee/Saint Thomas Health Internal Medicine Residency Program since 2014. He is the founder and medical director for the antimicrobial stewardship program at Saint Thomas Midtown Hospital. His research interests include the epidemiology of influenza and pneumonia in hospitalized adults and he currently serves as a principle investigator for the CDC's US Hospitalized Adult Influenza Vaccine Effectiveness Network (HAIVEN).
---
Uncaught Exception: Error Array ( [ * message] => Call to undefined method utgme_util::sortFacultyByLastName() [ Error string] => [ * code] => 0 [ * file] => /mnt/home/comnashville/production/public_html/site/cache/restricted/templates_c/web/fc/83/da/fc83da43993803add5e49750696c1e2e709e196c_0.dnacore.default_display.tpl.php [ * line] => 137 [ Error trace] => Array ( [0] => Array ( [file] => /mnt/home/comnashville/production/Smarty3/libs/sysplugins/smarty_internal_runtime_inheritance.php [line] => 219 [function] => callBlock [class] => Block_5113454285f093eb3b93f82_51213739 [type] => -> [args] => Array ( [0] => Array ( [_objType] => 2 [smarty] => Array [source] => Array [inheritance] => Array [template_resource] => dnacore:base/master.tpl [mustCompile] => (Converted to string): `false` [templateId] => #dnacore:base/master.tpl#usr_1#web#0 [scope] => 2 [isRenderingCache] => (Converted to string): `false` [startRenderCallbacks] => Array [endRenderCallbacks] => Array [cache_id] => usr_1 [compile_id] => web [caching] => 0 [cache_lifetime] => 3600 [_cache] => Array [template_class] => Smarty_Internal_Template [tpl_vars] => Array [parent] => Array [config_vars] => Array [ext] => Array [compiled] => Array ) ) ) [1] => Array ( [file] => /mnt/home/comnashville/production/Smarty3/libs/sysplugins/smarty_internal_runtime_inheritance.php [line] => 162 [function] => callBlock [class] => Smarty_Internal_Runtime_Inheritance [type] => -> [args] => Array ( [0] => Array ( [name] => pageContentCenter [hide] => (Converted to string): `false` [append] => (Converted to string): `false` [prepend] => (Converted to string): `false` [callsChild] => (Converted to string): `false` [child] => (Converted to string): `NULL` [parent] => Array [tplIndex] => 0 ) [1] => Array ( [_objType] => 2 [smarty] => Array [source] => Array [inheritance] => Array [template_resource] => dnacore:base/master.tpl [mustCompile] => (Converted to string): `false` [templateId] => #dnacore:base/master.tpl#usr_1#web#0 [scope] => 2 [isRenderingCache] => (Converted to string): `false` [startRenderCallbacks] => Array [endRenderCallbacks] => Array [cache_id] => usr_1 [compile_id] => web [caching] => 0 [cache_lifetime] => 3600 [_cache] => Array [template_class] => Smarty_Internal_Template [tpl_vars] => Array [parent] => Array [config_vars] => Array [ext] => Array [compiled] => Array ) ) ) [2] => Array ( [file] => /mnt/home/comnashville/production/Smarty3/libs/sysplugins/smarty_internal_runtime_inheritance.php [line] => 164 [function] => process [class] => Smarty_Internal_Runtime_Inheritance [type] => -> [args] => Array ( [0] => Array ( [_objType] => 2 [smarty] => Array [source] => Array [inheritance] => Array [template_resource] => dnacore:base/master.tpl [mustCompile] => (Converted to string): `false` [templateId] => #dnacore:base/master.tpl#usr_1#web#0 [scope] => 2 [isRenderingCache] => (Converted to string): `false` [startRenderCallbacks] => Array [endRenderCallbacks] => Array [cache_id] => usr_1 [compile_id] => web [caching] => 0 [cache_lifetime] => 3600 [_cache] => Array [template_class] => Smarty_Internal_Template [tpl_vars] => Array [parent] => Array [config_vars] => Array [ext] => Array [compiled] => Array ) [1] => Array ( [name] => pageContentCenter [hide] => (Converted to string): `false` [append] => (Converted to string): `false` [prepend] => (Converted to string): `false` [callsChild] => (Converted to string): `false` [child] => (Converted to string): `NULL` [parent] => Array [tplIndex] => 0 ) [2] => Array ( [name] => pageContentCenter [hide] => (Converted to string): `false` [append] => (Converted to string): `false` [prepend] => (Converted to string): `false` [callsChild] => (Converted to string): `false` [child] => Array [parent] => (Converted to string): `NULL` [tplIndex] => 4 ) ) ) [3] => Array ( [file] => /mnt/home/comnashville/production/Smarty3/libs/sysplugins/smarty_internal_runtime_inheritance.php [line] => 136 [function] => process [class] => Smarty_Internal_Runtime_Inheritance [type] => -> [args] => Array ( [0] => Array ( [_objType] => 2 [smarty] => Array [source] => Array [inheritance] => Array [template_resource] => dnacore:base/master.tpl [mustCompile] => (Converted to string): `false` [templateId] => #dnacore:base/master.tpl#usr_1#web#0 [scope] => 2 [isRenderingCache] => (Converted to string): `false` [startRenderCallbacks] => Array [endRenderCallbacks] => Array [cache_id] => usr_1 [compile_id] => web [caching] => 0 [cache_lifetime] => 3600 [_cache] => Array [template_class] => Smarty_Internal_Template [tpl_vars] => Array [parent] => Array [config_vars] => Array [ext] => Array [compiled] => Array ) [1] => Array ( [name] => pageContentCenter [hide] => (Converted to string): `false` [append] => (Converted to string): `false` [prepend] => (Converted to string): `false` [callsChild] => (Converted to string): `false` [child] => Array [parent] => (Converted to string): `NULL` [tplIndex] => 4 ) ) ) [4] => Array ( [file] => /mnt/home/comnashville/production/public_html/site/cache/restricted/templates_c/web/ae/95/c7/ae95c737f3e3ce5d1d2056cf041c6fbf827af349_0.dnacore.master.tpl.php [line] => 135 [function] => instanceBlock [class] => Smarty_Internal_Runtime_Inheritance [type] => -> [args] => Array ( [0] => Array ( [_objType] => 2 [smarty] => Array [source] => Array [inheritance] => Array [template_resource] => dnacore:base/master.tpl [mustCompile] => (Converted to string): `false` [templateId] => #dnacore:base/master.tpl#usr_1#web#0 [scope] => 2 [isRenderingCache] => (Converted to string): `false` [startRenderCallbacks] => Array [endRenderCallbacks] => Array [cache_id] => usr_1 [compile_id] => web [caching] => 0 [cache_lifetime] => 3600 [_cache] => Array [template_class] => Smarty_Internal_Template [tpl_vars] => Array [parent] => Array [config_vars] => Array [ext] => Array [compiled] => Array ) [1] => Block_1287007685f093e6936bbc7_72030995 [2] => pageContentCenter ) ) [5] => Array ( [file] => /mnt/home/comnashville/production/Smarty3/libs/sysplugins/smarty_template_resource_base.php [line] => 128 [function] => content_5f093e6939dab4_03240966 [args] => Array ( [0] => Array ( [_objType] => 2 [smarty] => Array [source] => Array [inheritance] => Array [template_resource] => dnacore:base/master.tpl [mustCompile] => (Converted to string): `false` [templateId] => #dnacore:base/master.tpl#usr_1#web#0 [scope] => 2 [isRenderingCache] => (Converted to string): `false` [startRenderCallbacks] => Array [endRenderCallbacks] => Array [cache_id] => usr_1 [compile_id] => web [caching] => 0 [cache_lifetime] => 3600 [_cache] => Array [template_class] => Smarty_Internal_Template [tpl_vars] => Array [parent] => Array [config_vars] => Array [ext] => Array [compiled] => Array ) ) ) [6] => Array ( [file] => /mnt/home/comnashville/production/Smarty3/libs/sysplugins/smarty_template_compiled.php [line] => 170 [function] => getRenderedTemplateCode [class] => Smarty_Template_Resource_Base [type] => -> [args] => Array ( [0] => Array ( [_objType] => 2 [smarty] => Array [source] => Array [inheritance] => Array [template_resource] => dnacore:base/master.tpl [mustCompile] => (Converted to string): `false` [templateId] => #dnacore:base/master.tpl#usr_1#web#0 [scope] => 2 [isRenderingCache] => (Converted to string): `false` [startRenderCallbacks] => Array [endRenderCallbacks] => Array [cache_id] => usr_1 [compile_id] => web [caching] => 0 [cache_lifetime] => 3600 [_cache] => Array [template_class] => Smarty_Internal_Template [tpl_vars] => Array [parent] => Array [config_vars] => Array [ext] => Array [compiled] => Array ) ) ) [7] => Array ( [file] => /mnt/home/comnashville/production/Smarty3/libs/sysplugins/smarty_internal_template.php [line] => 184 [function] => render [class] => Smarty_Template_Compiled [type] => -> [args] => Array ( [0] => Array ( [_objType] => 2 [smarty] => Array [source] => Array [inheritance] => Array [template_resource] => dnacore:base/master.tpl [mustCompile] => (Converted to string): `false` [templateId] => #dnacore:base/master.tpl#usr_1#web#0 [scope] => 2 [isRenderingCache] => (Converted to string): `false` [startRenderCallbacks] => Array [endRenderCallbacks] => Array [cache_id] => usr_1 [compile_id] => web [caching] => 0 [cache_lifetime] => 3600 [_cache] => Array [template_class] => Smarty_Internal_Template [tpl_vars] => Array [parent] => Array [config_vars] => Array [ext] => Array [compiled] => Array ) ) ) [8] => Array ( [file] => /mnt/home/comnashville/production/Smarty3/libs/sysplugins/smarty_internal_template.php [line] => 350 [function] => render [class] => Smarty_Internal_Template [type] => -> [args] => Array ( ) ) [9] => Array ( [file] => /mnt/home/comnashville/production/public_html/site/cache/restricted/templates_c/web/d4/5d/5a/d45d5aa079b35141cd93a73a362db203dbc48311_0.dnacore.display.tpl.php [line] => 28 [function] => _subTemplateRender [class] => Smarty_Internal_Template [type] => -> [args] => Array ( [0] => dnacore:base/master.tpl [1] => usr_1 [2] => web [3] => 0 [4] => 3600 [5] => Array ( ) [6] => 2 [7] => (Converted to string): `false` ) ) [10] => Array ( [file] => /mnt/home/comnashville/production/Smarty3/libs/sysplugins/smarty_template_resource_base.php [line] => 128 [function] => content_5f093e69322001_19183932 [args] => Array ( [0] => Array ( [_objType] => 2 [smarty] => Array [source] => Array [inheritance] => Array [template_resource] => dnacore:items/item/base/display.tpl [mustCompile] => (Converted to string): `false` [templateId] => #dnacore:items/item/base/display.tpl#usr_1#web#0 [scope] => 2 [isRenderingCache] => (Converted to string): `false` [startRenderCallbacks] => Array [endRenderCallbacks] => Array [cache_id] => usr_1 [compile_id] => web [caching] => 0 [cache_lifetime] => 3600 [_cache] => Array [template_class] => Smarty_Internal_Template [tpl_vars] => Array [parent] => Array [config_vars] => Array [ext] => Array [compiled] => Array ) ) ) [11] => Array ( [file] => /mnt/home/comnashville/production/Smarty3/libs/sysplugins/smarty_template_compiled.php [line] => 170 [function] => getRenderedTemplateCode [class] => Smarty_Template_Resource_Base [type] => -> [args] => Array ( [0] => Array ( [_objType] => 2 [smarty] => Array [source] => Array [inheritance] => Array [template_resource] => dnacore:items/item/base/display.tpl [mustCompile] => (Converted to string): `false` [templateId] => #dnacore:items/item/base/display.tpl#usr_1#web#0 [scope] => 2 [isRenderingCache] => (Converted to string): `false` [startRenderCallbacks] => Array [endRenderCallbacks] => Array [cache_id] => usr_1 [compile_id] => web [caching] => 0 [cache_lifetime] => 3600 [_cache] => Array [template_class] => Smarty_Internal_Template [tpl_vars] => Array [parent] => Array [config_vars] => Array [ext] => Array [compiled] => Array ) ) ) [12] => Array ( [file] => /mnt/home/comnashville/production/Smarty3/libs/sysplugins/smarty_internal_template.php [line] => 184 [function] => render [class] => Smarty_Template_Compiled [type] => -> [args] => Array ( [0] => Array ( [_objType] => 2 [smarty] => Array [source] => Array [inheritance] => Array [template_resource] => dnacore:items/item/base/display.tpl [mustCompile] => (Converted to string): `false` [templateId] => #dnacore:items/item/base/display.tpl#usr_1#web#0 [scope] => 2 [isRenderingCache] => (Converted to string): `false` [startRenderCallbacks] => Array [endRenderCallbacks] => Array [cache_id] => usr_1 [compile_id] => web [caching] => 0 [cache_lifetime] => 3600 [_cache] => Array [template_class] => Smarty_Internal_Template [tpl_vars] => Array [parent] => Array [config_vars] => Array [ext] => Array [compiled] => Array ) ) ) [13] => Array ( [file] => /mnt/home/comnashville/production/Smarty3/libs/sysplugins/smarty_internal_template.php [line] => 350 [function] => render [class] => Smarty_Internal_Template [type] => -> [args] => Array ( ) ) [14] => Array ( [file] => /mnt/home/comnashville/production/public_html/site/cache/restricted/templates_c/web/54/d2/7f/54d27faf014a3a99597d56e5362836ef90cdb0cc_0.dnacore.default_display.tpl.php [line] => 28 [function] => _subTemplateRender [class] => Smarty_Internal_Template [type] => -> [args] => Array ( [0] => dnacore:items/item/base/display.tpl [1] => usr_1 [2] => web [3] => 0 [4] => 3600 [5] => Array ( ) [6] => 2 [7] => (Converted to string): `false` ) ) [15] => Array ( [file] => /mnt/home/comnashville/production/Smarty3/libs/sysplugins/smarty_template_resource_base.php [line] => 128 [function] => content_5f093e6931e2b1_07538108 [args] => Array ( [0] => Array ( [_objType] => 2 [smarty] => Array [source] => Array [inheritance] => Array [template_resource] => dnacore:items/item/default_display.tpl [mustCompile] => (Converted to string): `false` [templateId] => #dnacore:items/item/default_display.tpl#usr_1#web#0 [scope] => 2 [isRenderingCache] => (Converted to string): `false` [startRenderCallbacks] => Array [endRenderCallbacks] => Array [cache_id] => usr_1 [compile_id] => web [caching] => 0 [cache_lifetime] => 3600 [_cache] => Array [template_class] => Smarty_Internal_Template [tpl_vars] => Array [parent] => Array [config_vars] => Array [ext] => Array [compiled] => Array ) ) ) [16] => Array ( [file] => /mnt/home/comnashville/production/Smarty3/libs/sysplugins/smarty_template_compiled.php [line] => 170 [function] => getRenderedTemplateCode [class] => Smarty_Template_Resource_Base [type] => -> [args] => Array ( [0] => Array ( [_objType] => 2 [smarty] => Array [source] => Array [inheritance] => Array [template_resource] => dnacore:items/item/default_display.tpl [mustCompile] => (Converted to string): `false` [templateId] => #dnacore:items/item/default_display.tpl#usr_1#web#0 [scope] => 2 [isRenderingCache] => (Converted to string): `false` [startRenderCallbacks] => Array [endRenderCallbacks] => Array [cache_id] => usr_1 [compile_id] => web [caching] => 0 [cache_lifetime] => 3600 [_cache] => Array [template_class] => Smarty_Internal_Template [tpl_vars] => Array [parent] => Array [config_vars] => Array [ext] => Array [compiled] => Array ) ) ) [17] => Array ( [file] => /mnt/home/comnashville/production/Smarty3/libs/sysplugins/smarty_internal_template.php [line] => 184 [function] => render [class] => Smarty_Template_Compiled [type] => -> [args] => Array ( [0] => Array ( [_objType] => 2 [smarty] => Array [source] => Array [inheritance] => Array [template_resource] => dnacore:items/item/default_display.tpl [mustCompile] => (Converted to string): `false` [templateId] => #dnacore:items/item/default_display.tpl#usr_1#web#0 [scope] => 2 [isRenderingCache] => (Converted to string): `false` [startRenderCallbacks] => Array [endRenderCallbacks] => Array [cache_id] => usr_1 [compile_id] => web [caching] => 0 [cache_lifetime] => 3600 [_cache] => Array [template_class] => Smarty_Internal_Template [tpl_vars] => Array [parent] => Array [config_vars] => Array [ext] => Array [compiled] => Array ) ) ) [18] => Array ( [file] => /mnt/home/comnashville/production/Smarty3/libs/sysplugins/smarty_internal_template.php [line] => 350 [function] => render [class] => Smarty_Internal_Template [type] => -> [args] => Array ( ) ) [19] => Array ( [file] => /mnt/home/comnashville/production/public_html/site/cache/restricted/templates_c/web/be/ad/d2/beadd219739a035aed3f47c6342bd39a6f16d5a1_0.dnacore.display.tpl.php [line] => 30 [function] => _subTemplateRender [class] => Smarty_Internal_Template [type] => -> [args] => Array ( [0] => dnacore:items/item/default_display.tpl [1] => usr_1 [2] => web [3] => 0 [4] => 3600 [5] => Array ( ) [6] => 2 [7] => (Converted to string): `false` ) ) [20] => Array ( [file] => /mnt/home/comnashville/production/Smarty3/libs/sysplugins/smarty_template_resource_base.php [line] => 128 [function] => content_5f093eb3b9e2e6_18104014 [args] => Array ( [0] => Array ( [_objType] => 2 [smarty] => Array [source] => Array [inheritance] => Array [template_resource] => dnacore:items/faculty/base/display.tpl [mustCompile] => (Converted to string): `false` [templateId] => #dnacore:items/faculty/base/display.tpl#usr_1#web#0 [scope] => 2 [isRenderingCache] => (Converted to string): `false` [startRenderCallbacks] => Array [endRenderCallbacks] => Array [cache_id] => usr_1 [compile_id] => web [caching] => 0 [cache_lifetime] => 3600 [_cache] => Array [template_class] => Smarty_Internal_Template [tpl_vars] => Array [parent] => Array [config_vars] => Array [ext] => Array [compiled] => Array ) ) ) [21] => Array ( [file] => /mnt/home/comnashville/production/Smarty3/libs/sysplugins/smarty_template_compiled.php [line] => 170 [function] => getRenderedTemplateCode [class] => Smarty_Template_Resource_Base [type] => -> [args] => Array ( [0] => Array ( [_objType] => 2 [smarty] => Array [source] => Array [inheritance] => Array [template_resource] => dnacore:items/faculty/base/display.tpl [mustCompile] => (Converted to string): `false` [templateId] => #dnacore:items/faculty/base/display.tpl#usr_1#web#0 [scope] => 2 [isRenderingCache] => (Converted to string): `false` [startRenderCallbacks] => Array [endRenderCallbacks] => Array [cache_id] => usr_1 [compile_id] => web [caching] => 0 [cache_lifetime] => 3600 [_cache] => Array [template_class] => Smarty_Internal_Template [tpl_vars] => Array [parent] => Array [config_vars] => Array [ext] => Array [compiled] => Array ) ) ) [22] => Array ( [file] => /mnt/home/comnashville/production/Smarty3/libs/sysplugins/smarty_internal_template.php [line] => 184 [function] => render [class] => Smarty_Template_Compiled [type] => -> [args] => Array ( [0] => Array ( [_objType] => 2 [smarty] => Array [source] => Array [inheritance] => Array [template_resource] => dnacore:items/faculty/base/display.tpl [mustCompile] => (Converted to string): `false` [templateId] => #dnacore:items/faculty/base/display.tpl#usr_1#web#0 [scope] => 2 [isRenderingCache] => (Converted to string): `false` [startRenderCallbacks] => Array [endRenderCallbacks] => Array [cache_id] => usr_1 [compile_id] => web [caching] => 0 [cache_lifetime] => 3600 [_cache] => Array [template_class] => Smarty_Internal_Template [tpl_vars] => Array [parent] => Array [config_vars] => Array [ext] => Array [compiled] => Array ) ) ) [23] => Array ( [file] => /mnt/home/comnashville/production/Smarty3/libs/sysplugins/smarty_internal_template.php [line] => 350 [function] => render [class] => Smarty_Internal_Template [type] => -> [args] => Array ( ) ) [24] => Array ( [file] => /mnt/home/comnashville/production/public_html/site/cache/restricted/templates_c/web/fc/83/da/fc83da43993803add5e49750696c1e2e709e196c_0.dnacore.default_display.tpl.php [line] => 44 [function] => _subTemplateRender [class] => Smarty_Internal_Template [type] => -> [args] => Array ( [0] => dnacore:items/faculty/base/display.tpl [1] => usr_1 [2] => web [3] => 0 [4] => 3600 [5] => Array ( ) [6] => 2 [7] => (Converted to string): `false` ) ) [25] => Array ( [file] => /mnt/home/comnashville/production/Smarty3/libs/sysplugins/smarty_template_resource_base.php [line] => 128 [function] => content_5f093eb3b954d0_77534066 [args] => Array ( [0] => Array ( [_objType] => 2 [smarty] => Array [source] => Array [inheritance] => Array [template_resource] => /mnt/home/comnashville/production/public_html/site/custom/templates/web/items/faculty/default_display.tpl [mustCompile] => (Converted to string): `false` [templateId] => #dnacore:/mnt/home/comnashville/production/public_html/site/custom/templates/web/items/faculty/default_display.tpl#usr_1#web#0 [scope] => 0 [isRenderingCache] => (Converted to string): `false` [startRenderCallbacks] => Array [endRenderCallbacks] => Array [cache_id] => usr_1 [compile_id] => web [caching] => (Converted to string): `false` [cache_lifetime] => 3600 [_cache] => Array [template_class] => Smarty_Internal_Template [tpl_vars] => Array [parent] => Array [config_vars] => Array [ext] => Array [compiled] => Array ) ) ) [26] => Array ( [file] => /mnt/home/comnashville/production/Smarty3/libs/sysplugins/smarty_template_compiled.php [line] => 170 [function] => getRenderedTemplateCode [class] => Smarty_Template_Resource_Base [type] => -> [args] => Array ( [0] => Array ( [_objType] => 2 [smarty] => Array [source] => Array [inheritance] => Array [template_resource] => /mnt/home/comnashville/production/public_html/site/custom/templates/web/items/faculty/default_display.tpl [mustCompile] => (Converted to string): `false` [templateId] => #dnacore:/mnt/home/comnashville/production/public_html/site/custom/templates/web/items/faculty/default_display.tpl#usr_1#web#0 [scope] => 0 [isRenderingCache] => (Converted to string): `false` [startRenderCallbacks] => Array [endRenderCallbacks] => Array [cache_id] => usr_1 [compile_id] => web [caching] => (Converted to string): `false` [cache_lifetime] => 3600 [_cache] => Array [template_class] => Smarty_Internal_Template [tpl_vars] => Array [parent] => Array [config_vars] => Array [ext] => Array [compiled] => Array ) ) ) [27] => Array ( [file] => /mnt/home/comnashville/production/Smarty3/libs/sysplugins/smarty_internal_template.php [line] => 184 [function] => render [class] => Smarty_Template_Compiled [type] => -> [args] => Array ( [0] => Array ( [_objType] => 2 [smarty] => Array [source] => Array [inheritance] => Array [template_resource] => /mnt/home/comnashville/production/public_html/site/custom/templates/web/items/faculty/default_display.tpl [mustCompile] => (Converted to string): `false` [templateId] => #dnacore:/mnt/home/comnashville/production/public_html/site/custom/templates/web/items/faculty/default_display.tpl#usr_1#web#0 [scope] => 0 [isRenderingCache] => (Converted to string): `false` [startRenderCallbacks] => Array [endRenderCallbacks] => Array [cache_id] => usr_1 [compile_id] => web [caching] => (Converted to string): `false` [cache_lifetime] => 3600 [_cache] => Array [template_class] => Smarty_Internal_Template [tpl_vars] => Array [parent] => Array [config_vars] => Array [ext] => Array [compiled] => Array ) ) ) [28] => Array ( [file] => /mnt/home/comnashville/production/Smarty3/libs/sysplugins/smarty_internal_templatebase.php [line] => 199 [function] => render [class] => Smarty_Internal_Template [type] => -> [args] => Array ( [0] => (Converted to string): `false` [1] => 0 ) ) [29] => Array ( [file] => /mnt/home/comnashville/production/Smarty3/libs/sysplugins/smarty_internal_templatebase.php [line] => 99 [function] => _execute [class] => Smarty_Internal_TemplateBase [type] => -> [args] => Array ( [0] => Array ( [_objType] => 2 [smarty] => Array [source] => Array [inheritance] => Array [template_resource] => /mnt/home/comnashville/production/public_html/site/custom/templates/web/items/faculty/default_display.tpl [mustCompile] => (Converted to string): `false` [templateId] => #dnacore:/mnt/home/comnashville/production/public_html/site/custom/templates/web/items/faculty/default_display.tpl#usr_1#web#0 [scope] => 0 [isRenderingCache] => (Converted to string): `false` [startRenderCallbacks] => Array [endRenderCallbacks] => Array [cache_id] => usr_1 [compile_id] => web [caching] => (Converted to string): `false` [cache_lifetime] => 3600 [_cache] => Array [template_class] => Smarty_Internal_Template [tpl_vars] => Array [parent] => Array [config_vars] => Array [ext] => Array [compiled] => Array ) [1] => usr_1 [2] => (Converted to string): `NULL` [3] => (Converted to string): `NULL` [4] => 0 ) ) [30] => Array ( [file] => /mnt/home/comnashville/production/public_html/site/core/server/global/modes/mode_base.php [line] => 1279 [function] => fetch [class] => Smarty_Internal_TemplateBase [type] => -> [args] => Array ( [0] => /mnt/home/comnashville/production/public_html/site/custom/templates/web/items/faculty/default_display.tpl [1] => usr_1 ) ) [31] => Array ( [file] => /mnt/home/comnashville/production/public_html/site/core/server/global/modes/mode_base.php [line] => 542 [function] => _renderTemplateType [class] => mode_base [type] => -> [args] => Array ( [0] => content ) ) [32] => Array ( [file] => /mnt/home/comnashville/production/public_html/site/core/server/global/modes/mode_base.php [line] => 478 [function] => renderNormal [class] => mode_base [type] => -> [args] => Array ( ) ) [33] => Array ( [file] => /mnt/home/comnashville/production/public_html/site/core/server/global/applications/genome.php [line] => 368 [function] => render [class] => mode_base [type] => -> [args] => Array ( ) ) [34] => Array ( [file] => /mnt/home/comnashville/production/public_html/site/startup/index.php [line] => 49 [function] => executeApplication [class] => genome [type] => -> [args] => Array ( ) ) [35] => Array ( [file] => /mnt/home/comnashville/production/public_html/index.php [line] => 23 [args] => Array ( [0] => /mnt/home/comnashville/production/public_html/site/startup/index.php ) [function] => include ) ) [ Error previous] => (Converted to string): `NULL` )