Melissa Scalise, M.D.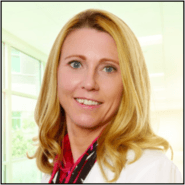 ---
Melissa Scalise, M.D.

Dr. Scalise graduated from medical school at the University of Nebraska and completed her internal medicine residency at Vanderbilt. She then served as chief resident of the UT-St. Thomas program. Following her chief year, she became Assistant Professor of Clinical Medicine at Vanderbilt, where she was a full-time clinician and also participated in resident clinic and medical student education. She went on to become a Master Clinical Teacher within the Vanderbilt University School of Medicine and served in this role for 4 years. Her career then took her back to the UT-St. Thomas program where she accepted a position as Core Faculty within the residency program and spends much of her time in the outpatient clinic, educating residents and students. She enjoys both graduate and undergraduate medical education and is a member of ACP. Outside of medicine, she enjoys running and has two sons who keep her busy.
---
Uncaught Exception: Error Array ( [ * message] => Call to undefined method utgme_util::sortFacultyByLastName() [ Error string] => [ * code] => 0 [ * file] => /mnt/home/comnashville/production/public_html/site/cache/restricted/templates_c/web/fc/83/da/fc83da43993803add5e49750696c1e2e709e196c_0.dnacore.default_display.tpl.php [ * line] => 137 [ Error trace] => Array ( [0] => Array ( [file] => /mnt/home/comnashville/production/Smarty3/libs/sysplugins/smarty_internal_runtime_inheritance.php [line] => 219 [function] => callBlock [class] => Block_5113454285f093eb3b93f82_51213739 [type] => -> [args] => Array ( [0] => Array ( [_objType] => 2 [smarty] => Array [source] => Array [inheritance] => Array [template_resource] => dnacore:base/master.tpl [mustCompile] => (Converted to string): `false` [templateId] => #dnacore:base/master.tpl#usr_1#web#0 [scope] => 2 [isRenderingCache] => (Converted to string): `false` [startRenderCallbacks] => Array [endRenderCallbacks] => Array [cache_id] => usr_1 [compile_id] => web [caching] => 0 [cache_lifetime] => 3600 [_cache] => Array [template_class] => Smarty_Internal_Template [tpl_vars] => Array [parent] => Array [config_vars] => Array [ext] => Array [compiled] => Array ) ) ) [1] => Array ( [file] => /mnt/home/comnashville/production/Smarty3/libs/sysplugins/smarty_internal_runtime_inheritance.php [line] => 162 [function] => callBlock [class] => Smarty_Internal_Runtime_Inheritance [type] => -> [args] => Array ( [0] => Array ( [name] => pageContentCenter [hide] => (Converted to string): `false` [append] => (Converted to string): `false` [prepend] => (Converted to string): `false` [callsChild] => (Converted to string): `false` [child] => (Converted to string): `NULL` [parent] => Array [tplIndex] => 0 ) [1] => Array ( [_objType] => 2 [smarty] => Array [source] => Array [inheritance] => Array [template_resource] => dnacore:base/master.tpl [mustCompile] => (Converted to string): `false` [templateId] => #dnacore:base/master.tpl#usr_1#web#0 [scope] => 2 [isRenderingCache] => (Converted to string): `false` [startRenderCallbacks] => Array [endRenderCallbacks] => Array [cache_id] => usr_1 [compile_id] => web [caching] => 0 [cache_lifetime] => 3600 [_cache] => Array [template_class] => Smarty_Internal_Template [tpl_vars] => Array [parent] => Array [config_vars] => Array [ext] => Array [compiled] => Array ) ) ) [2] => Array ( [file] => /mnt/home/comnashville/production/Smarty3/libs/sysplugins/smarty_internal_runtime_inheritance.php [line] => 164 [function] => process [class] => Smarty_Internal_Runtime_Inheritance [type] => -> [args] => Array ( [0] => Array ( [_objType] => 2 [smarty] => Array [source] => Array [inheritance] => Array [template_resource] => dnacore:base/master.tpl [mustCompile] => (Converted to string): `false` [templateId] => #dnacore:base/master.tpl#usr_1#web#0 [scope] => 2 [isRenderingCache] => (Converted to string): `false` [startRenderCallbacks] => Array [endRenderCallbacks] => Array [cache_id] => usr_1 [compile_id] => web [caching] => 0 [cache_lifetime] => 3600 [_cache] => Array [template_class] => Smarty_Internal_Template [tpl_vars] => Array [parent] => Array [config_vars] => Array [ext] => Array [compiled] => Array ) [1] => Array ( [name] => pageContentCenter [hide] => (Converted to string): `false` [append] => (Converted to string): `false` [prepend] => (Converted to string): `false` [callsChild] => (Converted to string): `false` [child] => (Converted to string): `NULL` [parent] => Array [tplIndex] => 0 ) [2] => Array ( [name] => pageContentCenter [hide] => (Converted to string): `false` [append] => (Converted to string): `false` [prepend] => (Converted to string): `false` [callsChild] => (Converted to string): `false` [child] => Array [parent] => (Converted to string): `NULL` [tplIndex] => 4 ) ) ) [3] => Array ( [file] => /mnt/home/comnashville/production/Smarty3/libs/sysplugins/smarty_internal_runtime_inheritance.php [line] => 136 [function] => process [class] => Smarty_Internal_Runtime_Inheritance [type] => -> [args] => Array ( [0] => Array ( [_objType] => 2 [smarty] => Array [source] => Array [inheritance] => Array [template_resource] => dnacore:base/master.tpl [mustCompile] => (Converted to string): `false` [templateId] => #dnacore:base/master.tpl#usr_1#web#0 [scope] => 2 [isRenderingCache] => (Converted to string): `false` [startRenderCallbacks] => Array [endRenderCallbacks] => Array [cache_id] => usr_1 [compile_id] => web [caching] => 0 [cache_lifetime] => 3600 [_cache] => Array [template_class] => Smarty_Internal_Template [tpl_vars] => Array [parent] => Array [config_vars] => Array [ext] => Array [compiled] => Array ) [1] => Array ( [name] => pageContentCenter [hide] => (Converted to string): `false` [append] => (Converted to string): `false` [prepend] => (Converted to string): `false` [callsChild] => (Converted to string): `false` [child] => Array [parent] => (Converted to string): `NULL` [tplIndex] => 4 ) ) ) [4] => Array ( [file] => /mnt/home/comnashville/production/public_html/site/cache/restricted/templates_c/web/ae/95/c7/ae95c737f3e3ce5d1d2056cf041c6fbf827af349_0.dnacore.master.tpl.php [line] => 135 [function] => instanceBlock [class] => Smarty_Internal_Runtime_Inheritance [type] => -> [args] => Array ( [0] => Array ( [_objType] => 2 [smarty] => Array [source] => Array [inheritance] => Array [template_resource] => dnacore:base/master.tpl [mustCompile] => (Converted to string): `false` [templateId] => #dnacore:base/master.tpl#usr_1#web#0 [scope] => 2 [isRenderingCache] => (Converted to string): `false` [startRenderCallbacks] => Array [endRenderCallbacks] => Array [cache_id] => usr_1 [compile_id] => web [caching] => 0 [cache_lifetime] => 3600 [_cache] => Array [template_class] => Smarty_Internal_Template [tpl_vars] => Array [parent] => Array [config_vars] => Array [ext] => Array [compiled] => Array ) [1] => Block_1287007685f093e6936bbc7_72030995 [2] => pageContentCenter ) ) [5] => Array ( [file] => /mnt/home/comnashville/production/Smarty3/libs/sysplugins/smarty_template_resource_base.php [line] => 128 [function] => content_5f093e6939dab4_03240966 [args] => Array ( [0] => Array ( [_objType] => 2 [smarty] => Array [source] => Array [inheritance] => Array [template_resource] => dnacore:base/master.tpl [mustCompile] => (Converted to string): `false` [templateId] => #dnacore:base/master.tpl#usr_1#web#0 [scope] => 2 [isRenderingCache] => (Converted to string): `false` [startRenderCallbacks] => Array [endRenderCallbacks] => Array [cache_id] => usr_1 [compile_id] => web [caching] => 0 [cache_lifetime] => 3600 [_cache] => Array [template_class] => Smarty_Internal_Template [tpl_vars] => Array [parent] => Array [config_vars] => Array [ext] => Array [compiled] => Array ) ) ) [6] => Array ( [file] => /mnt/home/comnashville/production/Smarty3/libs/sysplugins/smarty_template_compiled.php [line] => 170 [function] => getRenderedTemplateCode [class] => Smarty_Template_Resource_Base [type] => -> [args] => Array ( [0] => Array ( [_objType] => 2 [smarty] => Array [source] => Array [inheritance] => Array [template_resource] => dnacore:base/master.tpl [mustCompile] => (Converted to string): `false` [templateId] => #dnacore:base/master.tpl#usr_1#web#0 [scope] => 2 [isRenderingCache] => (Converted to string): `false` [startRenderCallbacks] => Array [endRenderCallbacks] => Array [cache_id] => usr_1 [compile_id] => web [caching] => 0 [cache_lifetime] => 3600 [_cache] => Array [template_class] => Smarty_Internal_Template [tpl_vars] => Array [parent] => Array [config_vars] => Array [ext] => Array [compiled] => Array ) ) ) [7] => Array ( [file] => /mnt/home/comnashville/production/Smarty3/libs/sysplugins/smarty_internal_template.php [line] => 184 [function] => render [class] => Smarty_Template_Compiled [type] => -> [args] => Array ( [0] => Array ( [_objType] => 2 [smarty] => Array [source] => Array [inheritance] => Array [template_resource] => dnacore:base/master.tpl [mustCompile] => (Converted to string): `false` [templateId] => #dnacore:base/master.tpl#usr_1#web#0 [scope] => 2 [isRenderingCache] => (Converted to string): `false` [startRenderCallbacks] => Array [endRenderCallbacks] => Array [cache_id] => usr_1 [compile_id] => web [caching] => 0 [cache_lifetime] => 3600 [_cache] => Array [template_class] => Smarty_Internal_Template [tpl_vars] => Array [parent] => Array [config_vars] => Array [ext] => Array [compiled] => Array ) ) ) [8] => Array ( [file] => /mnt/home/comnashville/production/Smarty3/libs/sysplugins/smarty_internal_template.php [line] => 350 [function] => render [class] => Smarty_Internal_Template [type] => -> [args] => Array ( ) ) [9] => Array ( [file] => /mnt/home/comnashville/production/public_html/site/cache/restricted/templates_c/web/d4/5d/5a/d45d5aa079b35141cd93a73a362db203dbc48311_0.dnacore.display.tpl.php [line] => 28 [function] => _subTemplateRender [class] => Smarty_Internal_Template [type] => -> [args] => Array ( [0] => dnacore:base/master.tpl [1] => usr_1 [2] => web [3] => 0 [4] => 3600 [5] => Array ( ) [6] => 2 [7] => (Converted to string): `false` ) ) [10] => Array ( [file] => /mnt/home/comnashville/production/Smarty3/libs/sysplugins/smarty_template_resource_base.php [line] => 128 [function] => content_5f093e69322001_19183932 [args] => Array ( [0] => Array ( [_objType] => 2 [smarty] => Array [source] => Array [inheritance] => Array [template_resource] => dnacore:items/item/base/display.tpl [mustCompile] => (Converted to string): `false` [templateId] => #dnacore:items/item/base/display.tpl#usr_1#web#0 [scope] => 2 [isRenderingCache] => (Converted to string): `false` [startRenderCallbacks] => Array [endRenderCallbacks] => Array [cache_id] => usr_1 [compile_id] => web [caching] => 0 [cache_lifetime] => 3600 [_cache] => Array [template_class] => Smarty_Internal_Template [tpl_vars] => Array [parent] => Array [config_vars] => Array [ext] => Array [compiled] => Array ) ) ) [11] => Array ( [file] => /mnt/home/comnashville/production/Smarty3/libs/sysplugins/smarty_template_compiled.php [line] => 170 [function] => getRenderedTemplateCode [class] => Smarty_Template_Resource_Base [type] => -> [args] => Array ( [0] => Array ( [_objType] => 2 [smarty] => Array [source] => Array [inheritance] => Array [template_resource] => dnacore:items/item/base/display.tpl [mustCompile] => (Converted to string): `false` [templateId] => #dnacore:items/item/base/display.tpl#usr_1#web#0 [scope] => 2 [isRenderingCache] => (Converted to string): `false` [startRenderCallbacks] => Array [endRenderCallbacks] => Array [cache_id] => usr_1 [compile_id] => web [caching] => 0 [cache_lifetime] => 3600 [_cache] => Array [template_class] => Smarty_Internal_Template [tpl_vars] => Array [parent] => Array [config_vars] => Array [ext] => Array [compiled] => Array ) ) ) [12] => Array ( [file] => /mnt/home/comnashville/production/Smarty3/libs/sysplugins/smarty_internal_template.php [line] => 184 [function] => render [class] => Smarty_Template_Compiled [type] => -> [args] => Array ( [0] => Array ( [_objType] => 2 [smarty] => Array [source] => Array [inheritance] => Array [template_resource] => dnacore:items/item/base/display.tpl [mustCompile] => (Converted to string): `false` [templateId] => #dnacore:items/item/base/display.tpl#usr_1#web#0 [scope] => 2 [isRenderingCache] => (Converted to string): `false` [startRenderCallbacks] => Array [endRenderCallbacks] => Array [cache_id] => usr_1 [compile_id] => web [caching] => 0 [cache_lifetime] => 3600 [_cache] => Array [template_class] => Smarty_Internal_Template [tpl_vars] => Array [parent] => Array [config_vars] => Array [ext] => Array [compiled] => Array ) ) ) [13] => Array ( [file] => /mnt/home/comnashville/production/Smarty3/libs/sysplugins/smarty_internal_template.php [line] => 350 [function] => render [class] => Smarty_Internal_Template [type] => -> [args] => Array ( ) ) [14] => Array ( [file] => /mnt/home/comnashville/production/public_html/site/cache/restricted/templates_c/web/54/d2/7f/54d27faf014a3a99597d56e5362836ef90cdb0cc_0.dnacore.default_display.tpl.php [line] => 28 [function] => _subTemplateRender [class] => Smarty_Internal_Template [type] => -> [args] => Array ( [0] => dnacore:items/item/base/display.tpl [1] => usr_1 [2] => web [3] => 0 [4] => 3600 [5] => Array ( ) [6] => 2 [7] => (Converted to string): `false` ) ) [15] => Array ( [file] => /mnt/home/comnashville/production/Smarty3/libs/sysplugins/smarty_template_resource_base.php [line] => 128 [function] => content_5f093e6931e2b1_07538108 [args] => Array ( [0] => Array ( [_objType] => 2 [smarty] => Array [source] => Array [inheritance] => Array [template_resource] => dnacore:items/item/default_display.tpl [mustCompile] => (Converted to string): `false` [templateId] => #dnacore:items/item/default_display.tpl#usr_1#web#0 [scope] => 2 [isRenderingCache] => (Converted to string): `false` [startRenderCallbacks] => Array [endRenderCallbacks] => Array [cache_id] => usr_1 [compile_id] => web [caching] => 0 [cache_lifetime] => 3600 [_cache] => Array [template_class] => Smarty_Internal_Template [tpl_vars] => Array [parent] => Array [config_vars] => Array [ext] => Array [compiled] => Array ) ) ) [16] => Array ( [file] => /mnt/home/comnashville/production/Smarty3/libs/sysplugins/smarty_template_compiled.php [line] => 170 [function] => getRenderedTemplateCode [class] => Smarty_Template_Resource_Base [type] => -> [args] => Array ( [0] => Array ( [_objType] => 2 [smarty] => Array [source] => Array [inheritance] => Array [template_resource] => dnacore:items/item/default_display.tpl [mustCompile] => (Converted to string): `false` [templateId] => #dnacore:items/item/default_display.tpl#usr_1#web#0 [scope] => 2 [isRenderingCache] => (Converted to string): `false` [startRenderCallbacks] => Array [endRenderCallbacks] => Array [cache_id] => usr_1 [compile_id] => web [caching] => 0 [cache_lifetime] => 3600 [_cache] => Array [template_class] => Smarty_Internal_Template [tpl_vars] => Array [parent] => Array [config_vars] => Array [ext] => Array [compiled] => Array ) ) ) [17] => Array ( [file] => /mnt/home/comnashville/production/Smarty3/libs/sysplugins/smarty_internal_template.php [line] => 184 [function] => render [class] => Smarty_Template_Compiled [type] => -> [args] => Array ( [0] => Array ( [_objType] => 2 [smarty] => Array [source] => Array [inheritance] => Array [template_resource] => dnacore:items/item/default_display.tpl [mustCompile] => (Converted to string): `false` [templateId] => #dnacore:items/item/default_display.tpl#usr_1#web#0 [scope] => 2 [isRenderingCache] => (Converted to string): `false` [startRenderCallbacks] => Array [endRenderCallbacks] => Array [cache_id] => usr_1 [compile_id] => web [caching] => 0 [cache_lifetime] => 3600 [_cache] => Array [template_class] => Smarty_Internal_Template [tpl_vars] => Array [parent] => Array [config_vars] => Array [ext] => Array [compiled] => Array ) ) ) [18] => Array ( [file] => /mnt/home/comnashville/production/Smarty3/libs/sysplugins/smarty_internal_template.php [line] => 350 [function] => render [class] => Smarty_Internal_Template [type] => -> [args] => Array ( ) ) [19] => Array ( [file] => /mnt/home/comnashville/production/public_html/site/cache/restricted/templates_c/web/be/ad/d2/beadd219739a035aed3f47c6342bd39a6f16d5a1_0.dnacore.display.tpl.php [line] => 30 [function] => _subTemplateRender [class] => Smarty_Internal_Template [type] => -> [args] => Array ( [0] => dnacore:items/item/default_display.tpl [1] => usr_1 [2] => web [3] => 0 [4] => 3600 [5] => Array ( ) [6] => 2 [7] => (Converted to string): `false` ) ) [20] => Array ( [file] => /mnt/home/comnashville/production/Smarty3/libs/sysplugins/smarty_template_resource_base.php [line] => 128 [function] => content_5f093eb3b9e2e6_18104014 [args] => Array ( [0] => Array ( [_objType] => 2 [smarty] => Array [source] => Array [inheritance] => Array [template_resource] => dnacore:items/faculty/base/display.tpl [mustCompile] => (Converted to string): `false` [templateId] => #dnacore:items/faculty/base/display.tpl#usr_1#web#0 [scope] => 2 [isRenderingCache] => (Converted to string): `false` [startRenderCallbacks] => Array [endRenderCallbacks] => Array [cache_id] => usr_1 [compile_id] => web [caching] => 0 [cache_lifetime] => 3600 [_cache] => Array [template_class] => Smarty_Internal_Template [tpl_vars] => Array [parent] => Array [config_vars] => Array [ext] => Array [compiled] => Array ) ) ) [21] => Array ( [file] => /mnt/home/comnashville/production/Smarty3/libs/sysplugins/smarty_template_compiled.php [line] => 170 [function] => getRenderedTemplateCode [class] => Smarty_Template_Resource_Base [type] => -> [args] => Array ( [0] => Array ( [_objType] => 2 [smarty] => Array [source] => Array [inheritance] => Array [template_resource] => dnacore:items/faculty/base/display.tpl [mustCompile] => (Converted to string): `false` [templateId] => #dnacore:items/faculty/base/display.tpl#usr_1#web#0 [scope] => 2 [isRenderingCache] => (Converted to string): `false` [startRenderCallbacks] => Array [endRenderCallbacks] => Array [cache_id] => usr_1 [compile_id] => web [caching] => 0 [cache_lifetime] => 3600 [_cache] => Array [template_class] => Smarty_Internal_Template [tpl_vars] => Array [parent] => Array [config_vars] => Array [ext] => Array [compiled] => Array ) ) ) [22] => Array ( [file] => /mnt/home/comnashville/production/Smarty3/libs/sysplugins/smarty_internal_template.php [line] => 184 [function] => render [class] => Smarty_Template_Compiled [type] => -> [args] => Array ( [0] => Array ( [_objType] => 2 [smarty] => Array [source] => Array [inheritance] => Array [template_resource] => dnacore:items/faculty/base/display.tpl [mustCompile] => (Converted to string): `false` [templateId] => #dnacore:items/faculty/base/display.tpl#usr_1#web#0 [scope] => 2 [isRenderingCache] => (Converted to string): `false` [startRenderCallbacks] => Array [endRenderCallbacks] => Array [cache_id] => usr_1 [compile_id] => web [caching] => 0 [cache_lifetime] => 3600 [_cache] => Array [template_class] => Smarty_Internal_Template [tpl_vars] => Array [parent] => Array [config_vars] => Array [ext] => Array [compiled] => Array ) ) ) [23] => Array ( [file] => /mnt/home/comnashville/production/Smarty3/libs/sysplugins/smarty_internal_template.php [line] => 350 [function] => render [class] => Smarty_Internal_Template [type] => -> [args] => Array ( ) ) [24] => Array ( [file] => /mnt/home/comnashville/production/public_html/site/cache/restricted/templates_c/web/fc/83/da/fc83da43993803add5e49750696c1e2e709e196c_0.dnacore.default_display.tpl.php [line] => 44 [function] => _subTemplateRender [class] => Smarty_Internal_Template [type] => -> [args] => Array ( [0] => dnacore:items/faculty/base/display.tpl [1] => usr_1 [2] => web [3] => 0 [4] => 3600 [5] => Array ( ) [6] => 2 [7] => (Converted to string): `false` ) ) [25] => Array ( [file] => /mnt/home/comnashville/production/Smarty3/libs/sysplugins/smarty_template_resource_base.php [line] => 128 [function] => content_5f093eb3b954d0_77534066 [args] => Array ( [0] => Array ( [_objType] => 2 [smarty] => Array [source] => Array [inheritance] => Array [template_resource] => /mnt/home/comnashville/production/public_html/site/custom/templates/web/items/faculty/default_display.tpl [mustCompile] => (Converted to string): `false` [templateId] => #dnacore:/mnt/home/comnashville/production/public_html/site/custom/templates/web/items/faculty/default_display.tpl#usr_1#web#0 [scope] => 0 [isRenderingCache] => (Converted to string): `false` [startRenderCallbacks] => Array [endRenderCallbacks] => Array [cache_id] => usr_1 [compile_id] => web [caching] => (Converted to string): `false` [cache_lifetime] => 3600 [_cache] => Array [template_class] => Smarty_Internal_Template [tpl_vars] => Array [parent] => Array [config_vars] => Array [ext] => Array [compiled] => Array ) ) ) [26] => Array ( [file] => /mnt/home/comnashville/production/Smarty3/libs/sysplugins/smarty_template_compiled.php [line] => 170 [function] => getRenderedTemplateCode [class] => Smarty_Template_Resource_Base [type] => -> [args] => Array ( [0] => Array ( [_objType] => 2 [smarty] => Array [source] => Array [inheritance] => Array [template_resource] => /mnt/home/comnashville/production/public_html/site/custom/templates/web/items/faculty/default_display.tpl [mustCompile] => (Converted to string): `false` [templateId] => #dnacore:/mnt/home/comnashville/production/public_html/site/custom/templates/web/items/faculty/default_display.tpl#usr_1#web#0 [scope] => 0 [isRenderingCache] => (Converted to string): `false` [startRenderCallbacks] => Array [endRenderCallbacks] => Array [cache_id] => usr_1 [compile_id] => web [caching] => (Converted to string): `false` [cache_lifetime] => 3600 [_cache] => Array [template_class] => Smarty_Internal_Template [tpl_vars] => Array [parent] => Array [config_vars] => Array [ext] => Array [compiled] => Array ) ) ) [27] => Array ( [file] => /mnt/home/comnashville/production/Smarty3/libs/sysplugins/smarty_internal_template.php [line] => 184 [function] => render [class] => Smarty_Template_Compiled [type] => -> [args] => Array ( [0] => Array ( [_objType] => 2 [smarty] => Array [source] => Array [inheritance] => Array [template_resource] => /mnt/home/comnashville/production/public_html/site/custom/templates/web/items/faculty/default_display.tpl [mustCompile] => (Converted to string): `false` [templateId] => #dnacore:/mnt/home/comnashville/production/public_html/site/custom/templates/web/items/faculty/default_display.tpl#usr_1#web#0 [scope] => 0 [isRenderingCache] => (Converted to string): `false` [startRenderCallbacks] => Array [endRenderCallbacks] => Array [cache_id] => usr_1 [compile_id] => web [caching] => (Converted to string): `false` [cache_lifetime] => 3600 [_cache] => Array [template_class] => Smarty_Internal_Template [tpl_vars] => Array [parent] => Array [config_vars] => Array [ext] => Array [compiled] => Array ) ) ) [28] => Array ( [file] => /mnt/home/comnashville/production/Smarty3/libs/sysplugins/smarty_internal_templatebase.php [line] => 199 [function] => render [class] => Smarty_Internal_Template [type] => -> [args] => Array ( [0] => (Converted to string): `false` [1] => 0 ) ) [29] => Array ( [file] => /mnt/home/comnashville/production/Smarty3/libs/sysplugins/smarty_internal_templatebase.php [line] => 99 [function] => _execute [class] => Smarty_Internal_TemplateBase [type] => -> [args] => Array ( [0] => Array ( [_objType] => 2 [smarty] => Array [source] => Array [inheritance] => Array [template_resource] => /mnt/home/comnashville/production/public_html/site/custom/templates/web/items/faculty/default_display.tpl [mustCompile] => (Converted to string): `false` [templateId] => #dnacore:/mnt/home/comnashville/production/public_html/site/custom/templates/web/items/faculty/default_display.tpl#usr_1#web#0 [scope] => 0 [isRenderingCache] => (Converted to string): `false` [startRenderCallbacks] => Array [endRenderCallbacks] => Array [cache_id] => usr_1 [compile_id] => web [caching] => (Converted to string): `false` [cache_lifetime] => 3600 [_cache] => Array [template_class] => Smarty_Internal_Template [tpl_vars] => Array [parent] => Array [config_vars] => Array [ext] => Array [compiled] => Array ) [1] => usr_1 [2] => (Converted to string): `NULL` [3] => (Converted to string): `NULL` [4] => 0 ) ) [30] => Array ( [file] => /mnt/home/comnashville/production/public_html/site/core/server/global/modes/mode_base.php [line] => 1279 [function] => fetch [class] => Smarty_Internal_TemplateBase [type] => -> [args] => Array ( [0] => /mnt/home/comnashville/production/public_html/site/custom/templates/web/items/faculty/default_display.tpl [1] => usr_1 ) ) [31] => Array ( [file] => /mnt/home/comnashville/production/public_html/site/core/server/global/modes/mode_base.php [line] => 542 [function] => _renderTemplateType [class] => mode_base [type] => -> [args] => Array ( [0] => content ) ) [32] => Array ( [file] => /mnt/home/comnashville/production/public_html/site/core/server/global/modes/mode_base.php [line] => 478 [function] => renderNormal [class] => mode_base [type] => -> [args] => Array ( ) ) [33] => Array ( [file] => /mnt/home/comnashville/production/public_html/site/core/server/global/applications/genome.php [line] => 368 [function] => render [class] => mode_base [type] => -> [args] => Array ( ) ) [34] => Array ( [file] => /mnt/home/comnashville/production/public_html/site/startup/index.php [line] => 49 [function] => executeApplication [class] => genome [type] => -> [args] => Array ( ) ) [35] => Array ( [file] => /mnt/home/comnashville/production/public_html/index.php [line] => 23 [args] => Array ( [0] => /mnt/home/comnashville/production/public_html/site/startup/index.php ) [function] => include ) ) [ Error previous] => (Converted to string): `NULL` )